This month we offer a focus on works on paper in our collection. While artists have traditionally used paper to plan and test ideas with the immediacy of watercolour, pencil, ink or gouache, often this medium gives us a more intimate glimpse into the artists' creative process.
Pictured above is a wonderful watercolour and gouache on paper by Max Papart, painter and printmaker born in Marseille in 1911. During the 1950s Max Papart worked in a decorative post-cubist style, yet one which contained an element of realism. Later he moved away from this towards abstraction. It has been said that Max Papart does not "paint," he "composes," his images come together in a symphony of line, shape, and colour, and he himself compared the process of painting to that of music, requiring balance, form, structure, and harmony.
Léon Benigni, Réunion des Modistes
Gouache: 22 cm x 26 cm
Framed size: 46 cm x 48 cm
Leon Benigni was a fashion illustrator and graphic designer who worked with fashion designers such as Jeanne Lanvin, Marcel Rochas, Elsa Schiaparelli, Lucien Lelong, Jacques Fath, Jean Patou, Nina Ricci, and Cristobal Balenciaga. In addition he worked closely with fashion magazines such as Harper's Bazaar, Modes et Travaux, and Femina, both for editorial and magazine covers, creating bold Art Deco influenced fashion illustrations, capturing the sophistication and glamour of the period.
Catherine Marioton, Houpette et Miroir
Indian ink and gouache: 41 cm x 29 cm
Framed size: 63 cm x 49 cm
Signed
Catherine Marioton was born in Paris in 1901. She began drawing at a very early age and said "drawing was as natural as breathing to me." She very quickly developed her talent as a fashion illustrator, and chronicled 1920's French fashions for magazines such as Art Goût Beauté and Art de la mode. She said in an interview in 1994 that "whilst walking in Paris or on a trip to Normandy, I would think about clothes and make up scenes with people wearing them."
---
Artist of the Month




Jules Cavaillès (1901-1977)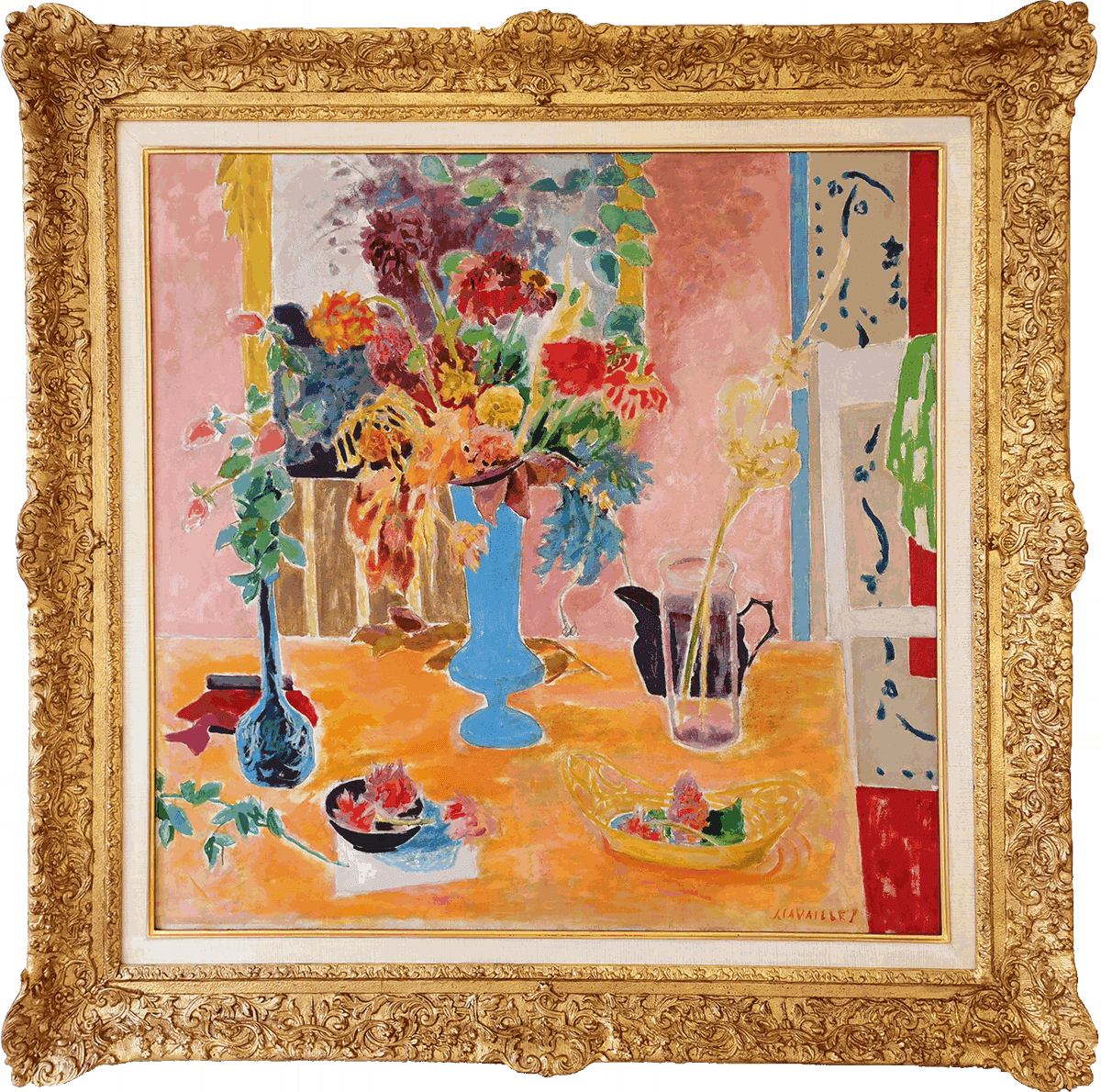 Jules Cavaillès was born in Carmaux in the Tarn region of France in 1901. After initially working as a draughtsman, he moved to Paris in 1922 to study at the Académie Julian. After completing his studies he moved to La Ruche, a bee-hive shaped structure providing a warren of studios for many artists in the 15th arrondissement of Paris. Here he shared a studio, and an artistic philosophy, with the artist Roger Limouse. Both artists, along with Maurice Brianchon, André Masson, Kostia Terechkovitch and Roland Oudet, were members of La Réalité Poétique group who were influenced by the paintings of Pierre Bonnard and Edouard Vuillard and the Fauves group. Read more...
Pictured: Le vase bleu, oil on canvas: 100 cm x 100 cm (framed size: 130 cm x 130 cm). Signed.