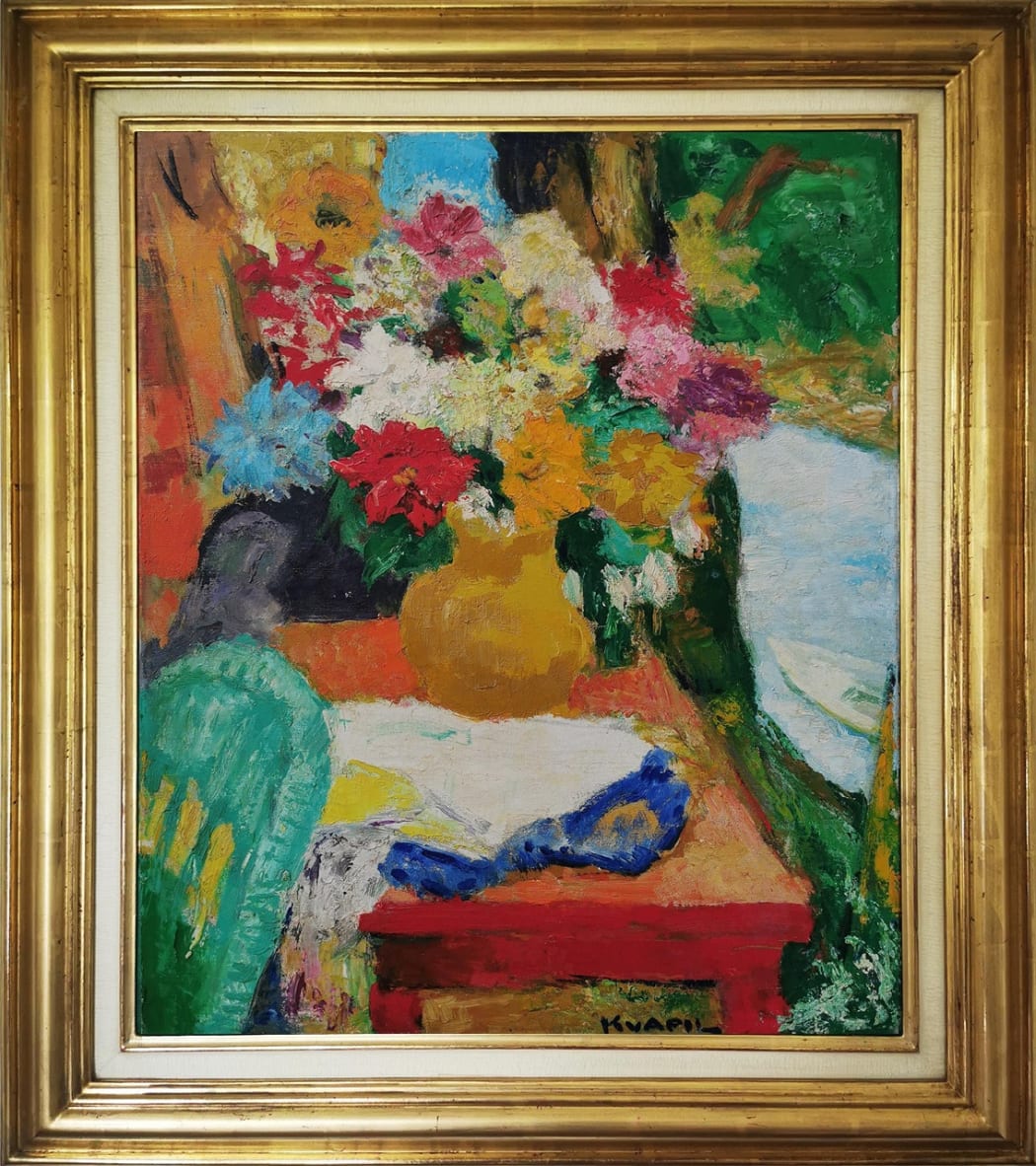 The end of winter is approaching and we look forward to a new season of sunnier and warmer days. Let's celebrate the coming springtime and Valentine's Day with a selection of colourful flower paintings to mark this seasonal transition, as in the oil painting above by Charles Kvapil (1884 - 1957), Nature morte au bord de la rivière.
Pierre Ambrogiani (1907 – 1985), Bouquet de Fleurs
Oil on panel: 36 x 28 cm
Pierre Ambrogiani was born in Ajaccio, Corsica, although he was brought up in Marseille, where he continued to live and work for the rest of his life. He was an Expressionist painter of Provencal landscapes, still lives, and nudes. Entirely self taught, he sustained a long career of over fifty years, with international recognition.
He participated in his first major exhibition with a group of fellow Provencal artists in 1936 in Marseille: numerous exhibitions followed, including one in Paris in 1946, and another in New York in 1947. He also illustrated many books, especially those written by his friend Marcel Pagnol, whose works evoked the hard, but lyrical, way of life in Provence in the early twentieth century.
In 1973 Pierre Ambrogiani had a major retrospective exhibition at the Musée de la Vieille Charité in Marseille, and after a long illness, died in 1985. The sun and colours of Provence were a constant theme throughout his work, coupled with his enduring delight in the bustle and energy of the picturesque old Port of Marseille.
Jules Cavaillès (1901 – 1977), L'Opaline Verte
Oil on canvas: 80 x 60 cm
20th century French artist Jules Cavaillès was born in Carmaux in the Tarn region of France in 1901. After initially working as a draughtsman, he moved to Paris in 1922 to study at the Académie Julian. After completing his studies he moved to La Ruche, a bee-hive shaped structure providing a warren of studios for many artists in the 15th arrondissement of Paris. Here he shared a studio, and an artistic philosophy, with the artist Roger Limouse.
Both artists, along with Maurice Brianchon, André Masson, Kostia Terechkovitch and Roland Oudet, were members of La Réalité Poétique group who were influenced by the paintings of Pierre Bonnard and Edouard Vuillard and the Fauves group. In 1936 Jules Cavaillès was awarded the Prix Blumenthal by the Foundation Franco-American Florence Blumenthal which was set up to discover and aid young French artists.
In 1937 he had his first one man exhibition at the prestigious Galerie Druet in Paris, and was also commissioned to decorate the Languedoc Pavilion at the Exposition Internationale des Arts and Métiers.
Clement Serveau (1886 – 1972), Bouquet de Fleurs
Oil on canvas: 73 x 54 cm
Clement Serveau was born in Paris in 1886. His early work was realistic in the tradition of the Post-impressionists but always with Cubist elements. Serveau was a student at l'École des Arts Décoratifs in Paris. He began exhibiting in 1905 at the Salon des Indépendants, and later at the Salon des Artistes Français where he won a bronze medal in 1921, silver medal in 1926, and a gold medal in 1929.
He exhibited in Greece in 1934 and 1935, and participated in group exhibitions of French artists in London, United States, Canada, and Sweden. Serveau continued to exhibit his paintings widely and in 1937 designed murals for the French Pavilion of Tourism at the Exhibition International in Paris. He was awarded the Chevalier de la Légion d'Honneur.
Throughout his life, he was a friend of Louis Marcoussis, an early Cubist artist. With him, Clement Serveau developed his style into Neo-Cubism. His style of abstraction and use of colour and planes made his paintings unique, with a mosaic-like quality. Serveau designed frescoes, mosaics, stained glass, and bank notes for the Banque de France and several other countries. He also illustrated several books, including novels by Colette, Duhamel, and Manriac.
---
Artist of the Month




Jean Lafon (1886-1973)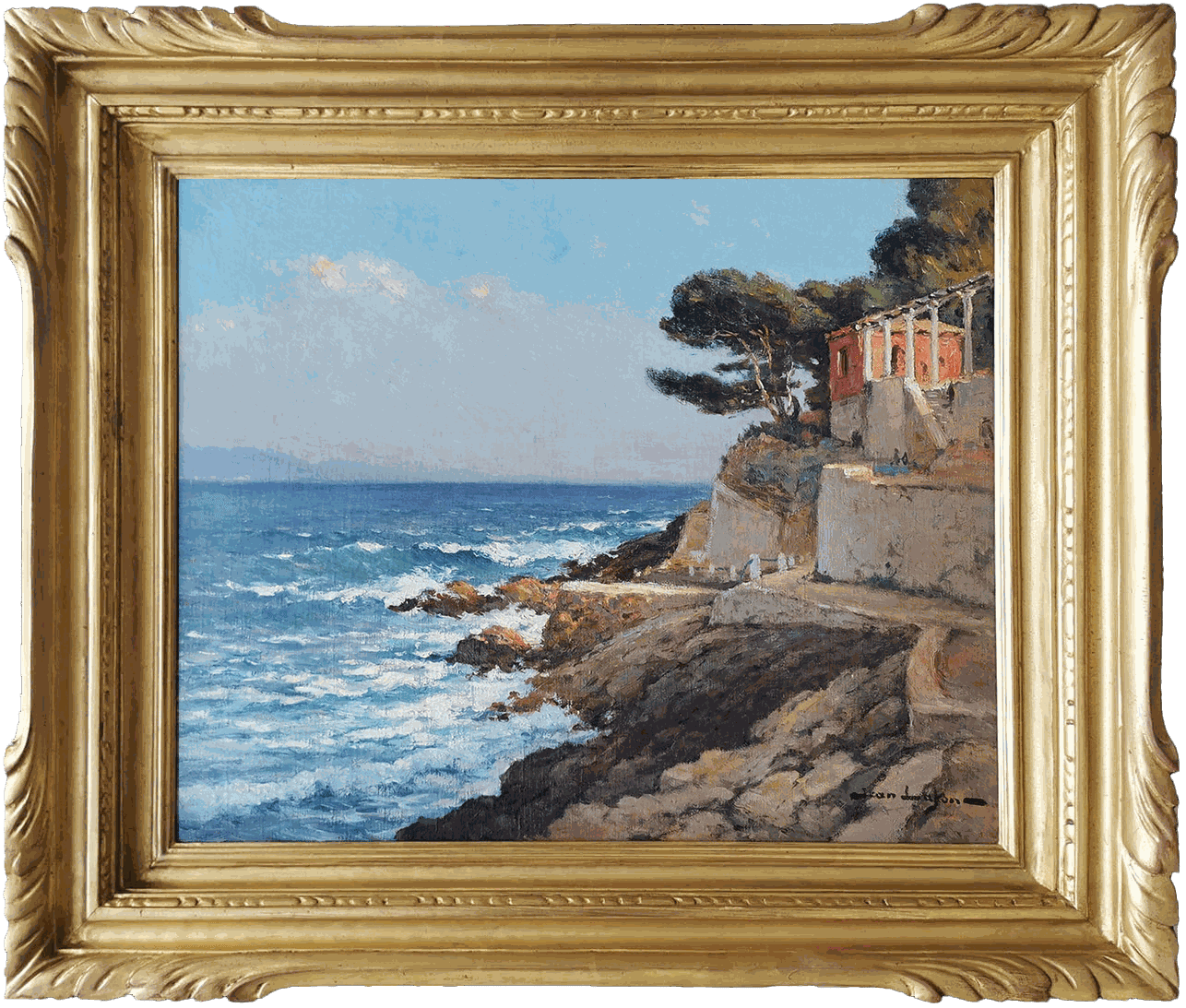 Jean Lafon was born in Paris in 1886. His father was the artist François Lafon (1846 – 1913), and his grandfather was also an artist, Jacques-Emile Lafon (1817 – 1886). Lafon was a painter of landscapes and marines, specialising in moonlit seascapes. He exhibited at the Salon de l'Ecole Francaise, and at the Galerie Giordano di Palma in Paris and Vichy. Jean Lafon died in 1973.
Pictured: Chemin des Douaniers à Boulouris, oil on canvas: 44 x 56 cm (framed size: 62 x 74 cm)