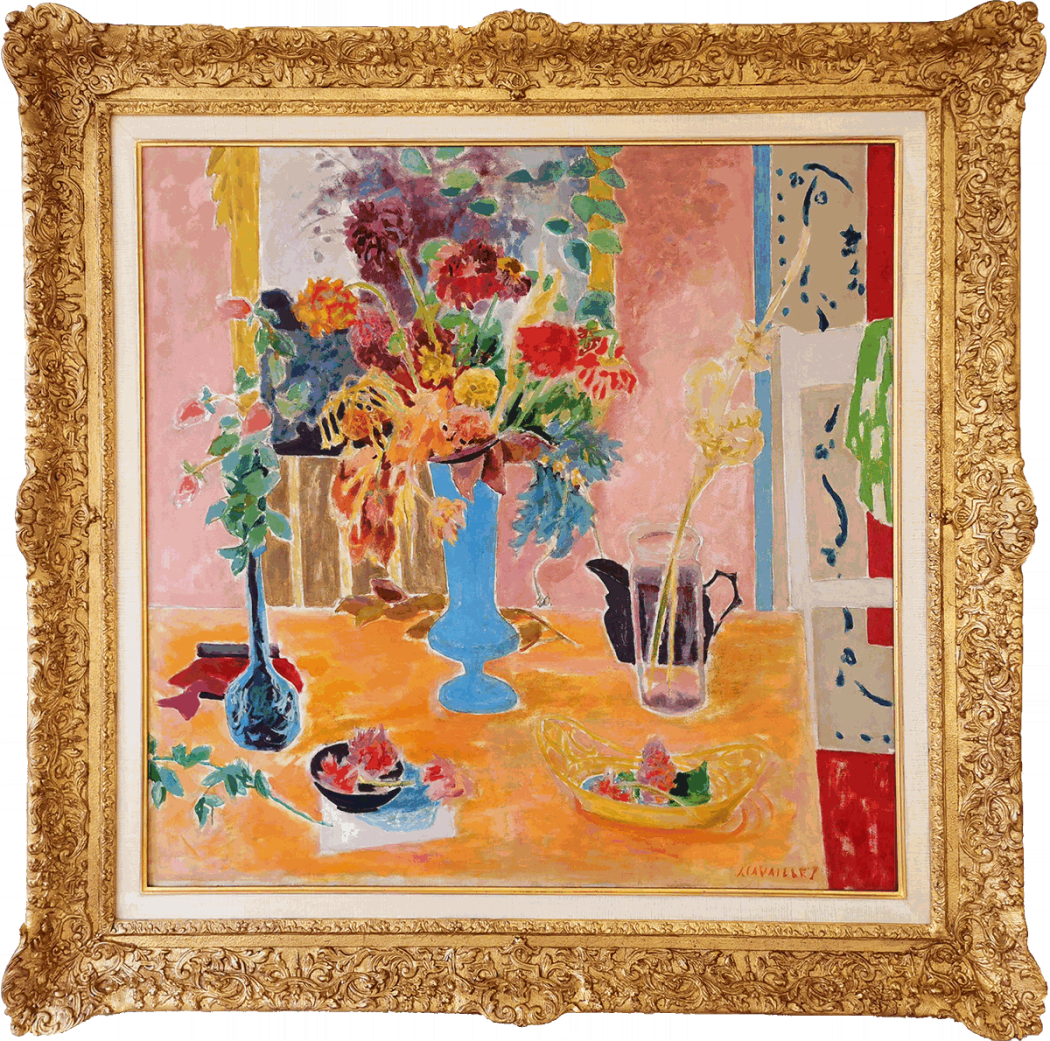 The festive season is just around the corner, and we are ready to bring a sparkle of gold in your home with three new wonderful acquisitions by renowned 20th century French artists. Le vase bleu, by Jules Cavailles (depicted above) is a spectacular 100 x 100cm oil on canvas set in its original ornate carved frame, which has been recently gilded. Our golden celebration continues below with Jacques Bouyssou's Espagne, Almuñécar, sur la plage, and post-cubist Max Papart's Personnages, both from 1958.
Jacques Bouyssou, Espagne, Almuñécar, sur la plage (1958)
Oil on canvas: 30 cm x 60 cm
Framed size: 46 cm x 76 cm
Signed
---
"All that is gold does not glitter, not all those who wander are lost;
the old that is strong does not wither, deep roots are not reached by the frost."
- J. R. Tolkien
---
Max Papart, Personnages (1958)
Oil on panel: 33 cm x 21 cm
Signed and dated 1958
---
Artist of the Month
Léopold Survage (1879-1968)
Léopold Survage was born in Moscow, Russia, in 1879. At the age of twenty two, in 1901, he attended the Moscow School of Fine Arts. He was strongly influenced at the time by the Russian avant-garde and exhibited with Alexander Archipenko, in the company of David Burlyuk, Vladimir Burlyuk, Mikhail Larionov, and Natalia Goncharova in 1907. By 1908 Léopold Survage had settled in Paris with his wife where he briefly attended the short-lived art school run by Henri Matisse. He first showed his work in Paris in 1911 at the Salon d'Automne. In the years preceding the First World War, Survage worked on an ambitious project producing coloured abstract compositions entitled Coloured Rhythm, which he planned to animate on film to evoke different emotions and sensations in the viewer.

Pictured: Étude pour Dynamisme, gouache and crayon on paper: 28 cm x 39 cm (framed size: 60 cm x 70 cm), signed and dated 1938